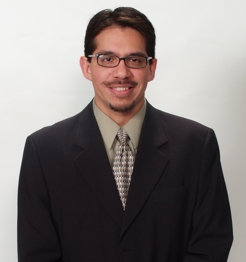 Born in 1972, Luis Minero graduated with honors in Chemistry from Florida International University. He began studying and developing his abilities in paranormal phenomena in his early teens. After becoming a volunteer in Conscientiology in 1995 in Miami, Florida, he began giving classes on OBEs, paranormal phenomena and spiritual growth in 1996, including at the college level (Miami-Dade College) from 1997 to 2002.
Since he speaks English, Spanish, Portuguese, and German, he has lectured on various topics related to the out-of-body experience in several countries across Europe, North America and South America, and has helped thousands of individuals to develop their own skills.
Some of the cities where he has lectured are in the USA: Atlanta, GA, Berkeley, CA, Ft. Lauderdale, FL, Los Angeles, CA, Miami, FL, Mountain View, CA, New York, NY, Pasadena, CA, Phoenix, AZ, Portland, OR, San Diego, CA, San Francisco, CA, San Jose, CA, San Rafael, CA, and Santa Monica, CA. Outside the USA, some of the cities where he has offered classes and seminars are Barcelona (Spain), Caracas (Venezuela), Evoramonte (Portugal, site of the IAC Campus), Frankfurt (Germany), Iguassu Falls (Brazil), Lisbon (Portugal), London (UK), Madrid (Spain), Mexico City (Mexico), Porto (Portugal), Porto Alegre (Brazil), Rio de Janeiro (Brazil), São Paulo (Brazil), Seville (Spain) and Sydney (Australia).
Luis has been featured in a number of television and radio programs around the world as well and has been the subject of interviews by magazines, newspapers, and periodicals of global distribution. He has also been invited to speak at several international congresses:
• 1st International Congress on Existential Inversion in Florianopolis, Brazil, in January 1999
• 3rd International Congress on Projectiology and Conscientiology in New York City, USA,
in May 2002
• 1st World State Forum in Iguaçu Falls, Brazil, in February 2006
• 1st Global Symposium on Existential Inversion at the IAC Campus, in November 2006
• 2nd Symposium on Conscientiological Research in Portugal, in October 2008
• IV Consciential Health Meeting and VI Symposium on Self-Conscientiotherapy at the
IAC Campus, in October 2010
As a researcher, he has published several papers and has developed research lines in the sciences of Projectiology and Conscientiology. Several of his works have been published in the scientific Journal of Conscientiology.
Also, he is responsible for the translation and revision of over half a dozen conscientiological books from Portuguese into English and Spanish. The following is a selected list of only a few of the translated titles, and their first publication date:
• "Our Evolution" by Dr. Waldo Vieira from Portuguese into Spanish (1996)
• "Conscientiogram" by Dr. Waldo Vieira from Portuguese into Spanish (1997)
• "Retrocognitions" by Wagner Alegretti from Portuguese into English (2002)
• "Conscientiogram" by Dr. Waldo Vieira from Portuguese into English (2012)
His research projects have led to the development of courses on Assistance (1997), Universalism (1999), Experience (2000), Intuition (2001) and Evolutionary Intelligence (2006).
He was the Director of the Florida center from 1999-2001, and has been the Executive Director of the IAC California center since 2003. He is currently the President of the IAC globally.
Useful link:
• Lecture (YouTube – 50 mins.) from Luis Minero on OBEs and spiritual development
---
The International Academy of Consciousness (IAC)
The International Academy of Consciousness (IAC) is a 501(c)(3) non-profit research and education organization. It studies the consciousness (soul, spirit, essence), placing special emphasis on the out-of-body experience, control over bioenergy or vital energies, and other multidimensional manifestations. All information presented by the IAC is based on scientific principles and on years of research and experience.
Luis Minero is currently the President of the IAC and Director of the California center. To find out more about IAC, click here.
The IAC focuses mainly on the study of Conscientiology (study of the consciousness or soul, spirit, essence) and Projectiology (projections outside the body, OBEs).